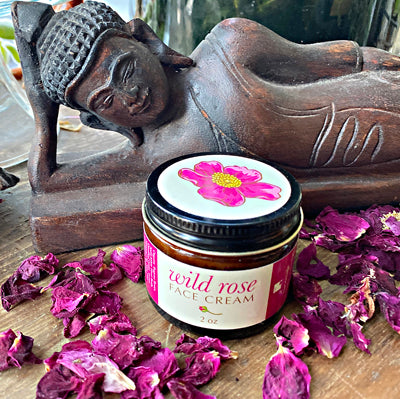 Our wild roses are harvested at Elk Creek Farm in East Meredith, and are combined with wild harvested Saint John's Wort Buds in order to provide nourishment and protection to our skin. The astringent qualities of wild roses and Saint John's wort buds are excellent for firming the skin, and promoting the healing of minor scrapes and skin irruptions. An added bonus is that the saint john's wort buds provide sun protection, and help relieve minor aches and pains. A tiny bit is all that is needed for a youthful and radiant glow.
Benefits of our Wild Rose Face Cream:
diminishes fine lines, wrinkles, age spots

reduces redness

soothes bruises, bites, rashes

relieves aches and pains

Ingredients: Rugosa Roses, Saint Johns Wort Buds, Distilled Water, Sweet Almond Oil, Aloe Vera Gel, Grape Seed Oil, Coconut Oil, Unrefined Shea Butter, Jojoba, Olive Oil, Lanolin, Beeswax, Vitamin E, Celtic Sea Salt, Borax. Essential Oils of Geranium, Lavender, Clary Sage, Rosewood, Palmarosa.