Wild Rose Water Facial Toner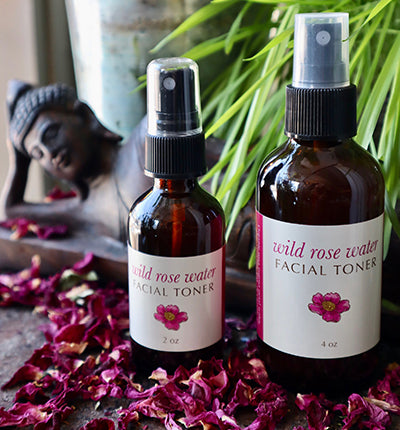 The usage of rosewater dates back to early Egypt when the legendary beauty queen Cleopatra used it in her daily skin care regimen.

Refreshing and cleansing our WILD ROSE WATER facial toner is made with locally grown organic roses ( Rosa Rugosa ) from the Catskills Mountains.

It is a natural yet gentle astringent and helps to cleanse, tighten the skin and to reduce redness and inflammation.

It also works as a natural antidepressant as the aroma of roses lifts the spirit and opens up the heart chakra.

Our rose toner hydrates, revitalizes and moisturizes skin naturally and gives you that plumped smooth complexion that defines natural beauty.
ingredients: wild rose petal water, aloe vera gel, extract of yarrow, witch-hazel, wild rose bud, calendula, St. Johns Wort, frankincense, fennel, blackberry buds, essential oils of rose geranium, cedarwood, myrrh.