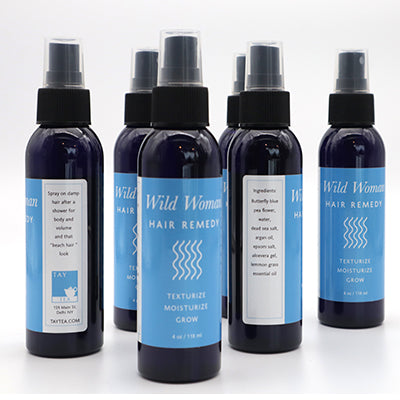 Our Wild Woman Hair Remedy does what it promises to do:
texturize, moisturize, and grow your hair!

The key ingredient in this all natural , organic hair product is Butterfly Blue pea flower which is excellent for hair growth as it contains anthocyanin—a compound known to increase blood circulation in the head and therefore maintain a healthy scalp. It also helps in strengthening the hair follicles from within. While the Epsom salt and sea salt act as perfect texturizers, the Aloe Vera and Argan oil moisturize your hair. Lemon grass softens hair and prevents dandruff. 
Directions: Spray on damp hair after a shower for body and volume and that "beach hair" look.
Ingredients: Butterfly blue pea flower, water, dead sea salt argan oil, epsom salt, Aloe Vera  gel, lemon grass, essential oil
4 oz