Turmeric Chai (Wellness Tea)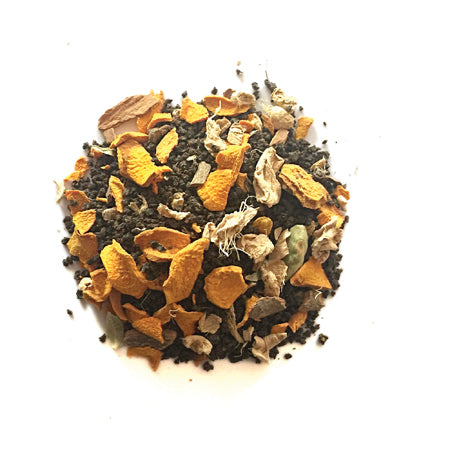 Loose leaf tea.
This black tea chai is currently our best seller for a good reason!
It's a potent and warming anti-inflammatory blend of organic turmeric root, ginger, cinnamon, black pepper and masala spices in a base of Assam black tea that helps with muscle recovery, digestion, immune support and reducing general inflammation throughout the body.
This tea is packed with antioxidants, it helps lift your mood and your energy levels.
Perfect enjoyed as a tea, turmeric milk, latte or smoothie.
CONTAINS CAFFEINE
Available in Classic Tin, Refill bag, Apothecary Jar, Window Tin, One-Pot sample
Our Classic Tin makes 35–50 cups of tea.
Find our more about the health benefits of turmeric and turmeric supplements>