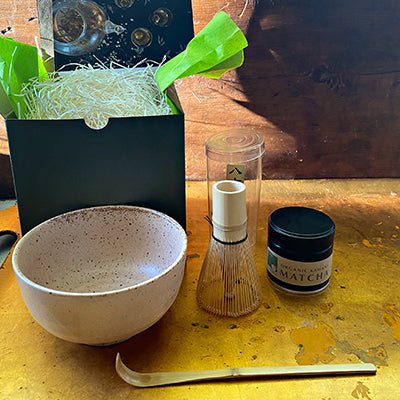 Our Matcha Tea Set is both for the novice and the seasoned matcha drinker.
Recommended by health consultants and tea sommeliers.
Everything you need to make a perfect bowl of Matcha tea: 

Beautiful Japanese stoneware Matcha bowl
bamboo Matcha scoop
Bamboo Matcha whisk
30g tin of organic Kawane Matcha.
Advantages of Matcha tea
137x more anti-oxidants than green tea. Anti-oxidants protect us against life-threatening diseases.

Improves tranquility. For thousands of years Japanese Zen Buddhist monks have been drinking Matcha tea as a means to relax and meditate yet still remain alert.

Increases memory and concentration. The leaves of Matcha contain the amino acid L-Theanine which stimulates the production of dopamine and serotonin.