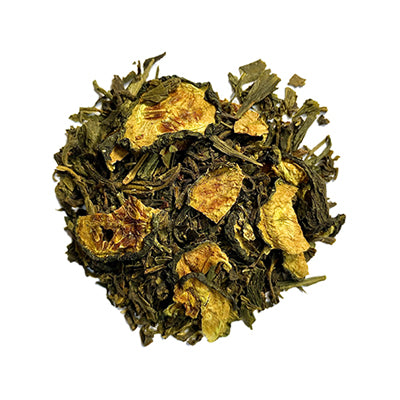 Loose leaf tea
A delicious Sencha green tea blend with cucumbers and melons.

Remember Paul Newman in the 1967 prison drama film Cool Hand Luke?
Paul and his cool vibes were the inspiration for this tea which is perfect for this hot summer—served as a refreshing iced tea with a twist of fresh cucumber.
Cold brewing is the best method for making this iced tea. Click here to learn how to Cold Brew Tea

This cooling green tea /cucumber cocktail is the perfect refreshing cocktail for hot summer days.

Make a cucumber simple syrup for this cocktail. Then combine it with (cold - brew) COOL HAND LUKE tea, rum, a little lime and muddled mint.

Add lots of ice cubes and garnish with cucumbers and sprigs of fresh mint .

It also tastes really good without the rum if you are looking for a refreshing non-alcoholic version!

CONTAINS LIGHT CAFFEINE
Available in Classic Tin (4 oz), Refill Bag,  Window Tin (approx. 2 oz.) One Pot Sample, One-gallon tea bag