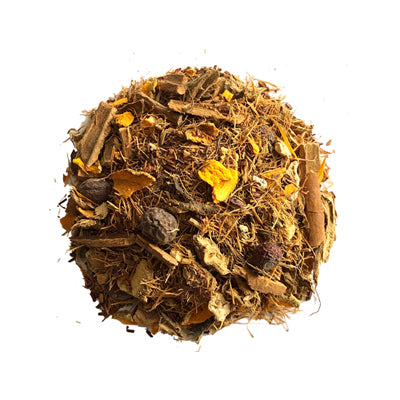 Our Wellness Lyme Tea consists of a group of traditional herbs that have been used throughout time. This specific compilation of herbs is derived from quality plants that are ethically wild harvested, grown locally in organic gardens or purchased from suppliers of organic botanicals.
Ingredients: Japanese Knotweed, Cats Claw, Hawthorn, Turmeric, Burdock, Dandelion, Rooibos, Cinnamon, Ginger, Calendula, Wild Purple Bee Balm, Stinging Nettles Seeds.
All ingredients are organic.
Available in 2.5 oz / 71 g  kraft bag •  makes approx. 30 cups
LYME TEA  information:
Download PDF for description and brewing instructions
About our Lyme Tea
Our Wellness Lyme Tea is a product of a collaboration between Nini Ordoubadi, Artisan Tea Blender and Founder of Tay Tea and Marguerite Uhlmann-Bower, RN, Herbalist.
DISCLAIMER
This statement has not been evaluated by the Food and Drug Administration.
This product is not intended to diagnose, treat, cure, or prevent any disease.