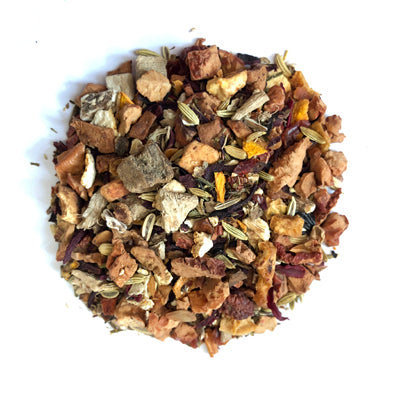 Our HEALTHY GUT TEA is a soothing , herbal tonic that helps support the body's natural elimination process, soothe occasional indigestion, and improve overall energy and immunity. This delicious herbal tea is made from a handcrafted blend of herbs each selected for their properties that help promote healthy digestion. Completely unsweetened and caffeine-free, all of this herbal action is packed into a recycled and resealable 4oz kraft bag for your convenience. So drink up and get moving!

This specific compilation of herbs is derived from quality plants that are ethically wild harvested, grown locally in organic gardens or purchased from suppliers of organic botanicals.
Ingredients: Kudzu Root, Fennel Seed, Angelica Root, Burdock Root, Dandelion Root, Green Rooibos Tea, Apple, Hibiscus, Rose, Orange, Cinnamon Bark, Ginger Root, Turmeric Root, Black Pepper.
All ingredients are organic.
Available in 3oz kraft bag/ 85G  •  Makes approx. 35 cups

Healthy Gut Tea information:
Download PDF for description and brewing instructions
About our Healthy Gut Tea:
Our Healthy Gut Tea is a product of a collaboration between Nini Ordoubadi, Artisan Tea Blender and Founder of Tay Tea and Marguerite Uhlmann-Bower, RN, Herbalist.
DISCLAIMER
This statement has not been evaluated by the Food and Drug Administration. This product is not intended to diagnose, treat, cure, or prevent any disease.