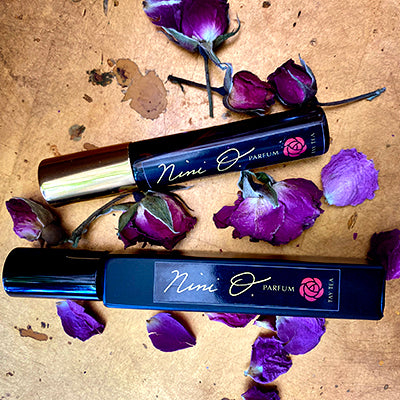 "I am the restless wind in love with the wild rose."—Rumi
Nini O. Parfum —a fragrance that will set your heart on fire!
At its core, hot pink Rugosa Rose petals are infused with golden saffron threads and blended with frankincense and orange to create an alluring yet light-hearted fragrance that is as uplifting as it is seductive.
It was the 13th-century Persian poet, Rumi, who heralded the rose as the "queen of flowers, a path to spiritual epiphany, and the subtle scent of ecstasy and intoxication."

For as long as I can remember, I have been obsessed with the rose—especially the wild rose (Rugosa Rose) which we grow organically in our garden at Elk Creek Farm in East Meredith, New York. I have been using these heavenly petals to create many of our popular tea blends starting with my signature tea, Persian Rose. Over the years, I have created a collection of natural beauty products (face creams, toners and elixirs) in collaboration with our local herbalist, all based on this magical wild rose. It was only natural that at some point a perfume would be born out of my love for the rose.
Nini O. Parfum is an all natural botanical perfume. It is hand-crafted and made in small batches in collaboration with a local New York beauty expert using organic Rugosa roses, saffron, orange, frankincense and a proprietary perfume blend of 16 organic essential oils.

The result is a nuanced alluring fragrance that is memorable, uplifting and a natural aphrodisiac.

NINI O. Parfum is dedicated to the memory of my beloved mother, Marie Ordoubadi, who taught me to create beauty every day and to share it with others.

Two sizes:
10ml—packaged in a matt-black glass vial
8ml—packaged in an amber glass vial

The perfume vials are sold with a beautiful handmade silk pouch, each with a unique color and design.