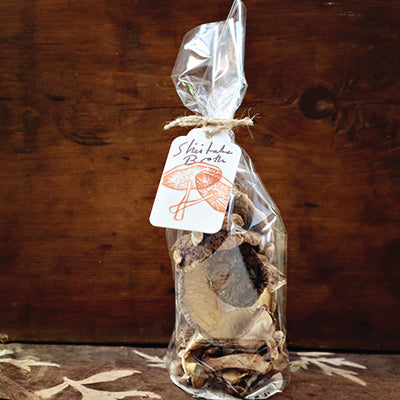 The making and consuming this broth daily is one of the healthiest practices you can engage in this year. I know because I've been practicing what I preach and I feel fortified and stronger than ever  because of it .
The ingredients start with local organic mushrooms that I buy and dehydrate in my shop and my original broth recipe below with a few ingredients.
The making of the broth is simple. It involves using dried shiitake that are gently simmered with onions, lemon grass and herbs. What results is an out of this world delicious, umami-rich broth with the addition of tamari that is a tiny bit sweet with just the slightest touch of acidity coming from a strip of lemon.
Health benefits:
Shiitake mushrooms (Lentinula edodes) are a savory ingredient that is popular in Asian cuisine. Shiitakes are high in fiber and low in calories, fat, and protein. They are packed with harder-to-get plant-based nutrients like vitamin D, zinc, choline, and B vitamins.
Download recipe for Nini's Shiitake Mushroom Broth here